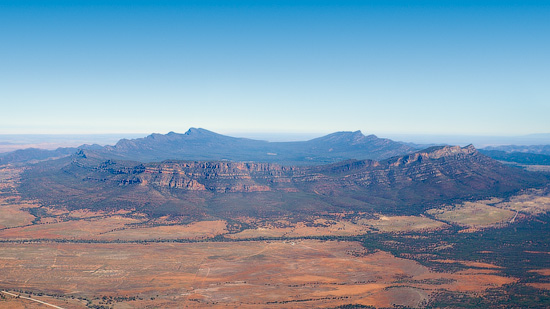 Wilpena Pound is a crater-like natural amphitheater located in the Flinders Ranges National Park, in South Australia, approximately 430 kilometers from Adelaide.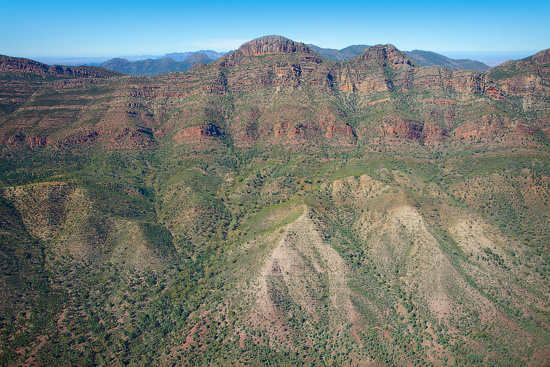 The word "Wilpena" in the local Aboriginal dialect means a "place where fingers bend" or a "cupped hand", and possibly related to a way how this place protects its' local nature and wildlife from the surrounding desert.
For the first white man who stepped on to this aboriginal land, the valley surrounded by hills and mountains looked like a giant cattle-pound. So, this place was called – Wilpena Pound.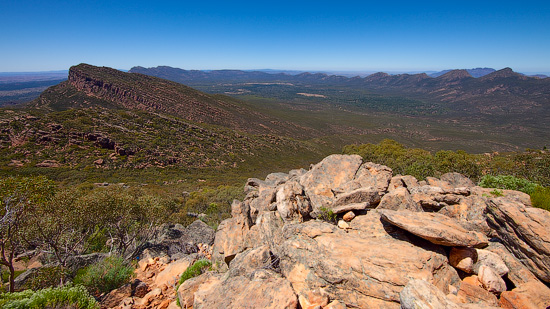 According to an ancient aboriginal legend, some time during a Dreamtime, two giant serpents (Akurra or Arkaroo), each 20 kilometers long, surrounded a hunting party who were preparing for a ceremony. After the long and desperate battle, hunters killed the snakes and their bodies petrified forming the walls of the Wilpena Pound. Two peaks of the Wilpena Pound – St Mary's Peak and Beatrice Hill – are heads of these serpents.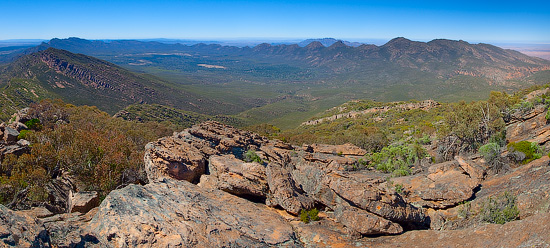 On the other side, geologists believe that this valley surrounded by rim of mountains was formed by faster erosion of the soft rock on the valley floor, comparing to harder rocks which form cliffs of the pound. They also say that Wilpena Pound started its formation 600 million years ago, during a Palaeozoic Era.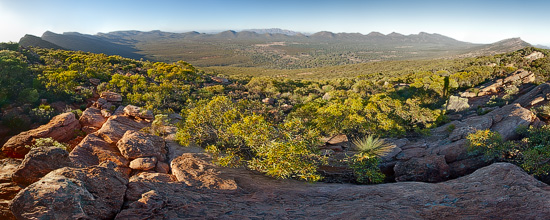 Regardless of the theory behind the formation of the Wilpena Pound, the floor of the valley is 200 meters higher than surrounding plains and stretches for 17 kilometers from North to South and 8 kilometers in width covering 8000 hectares.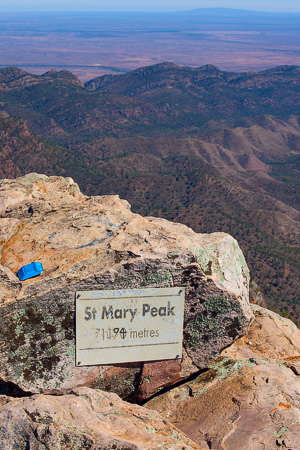 The highest point is St. Marys Peak, approximately 1170 meters above the sea level. I couldn't find an "official" height of this peak – different sources mention different heights, I saw – 1188, 1194, 1170 and 1171 meters.
There are only two exits from the valley – one is along the Wilpena Creek on the Eastern side of the Pound, the other exit leads through a narrow and rocky Edeowie Gorge on the west.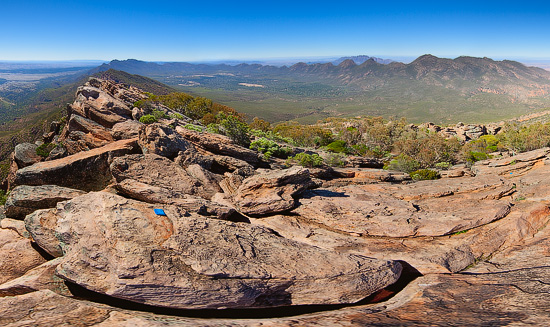 Initially due to its natural protection and isolation, the valley was used as a large horse breading area. Horses were led into the valley through the narrow passage and left to their own. Later, the valley was cleared and used for wheat farming. Remains of the old farm can still be found.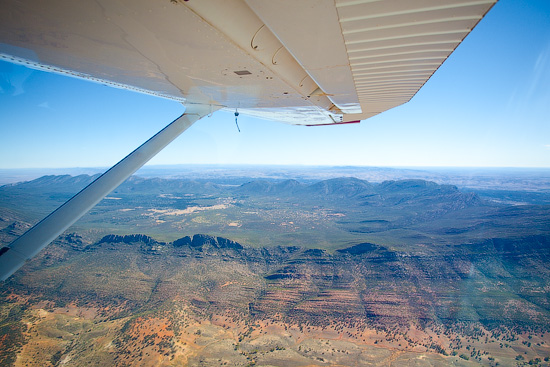 Today Wilpena Pound is one of the main tourist attractions and highlights of the region. There are two large resorts located next to the pound – Wilpena Resort and Rawnsley Park Station. Airstrips, built next to these resorts, allow everybody, for a reasonable price, get onto the small plane and to fly over the Wilpena Pound and rest of the beautiful Flinders Ranges National Park.