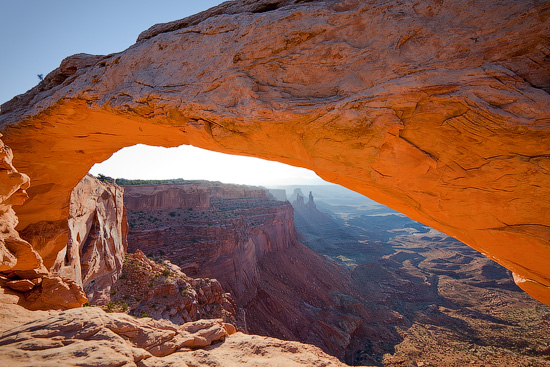 This place is probably one of the most popular tourist destinations in the region, it is so famous and legendary that you have probably seen it already many times on postcards, calendars, posters and etc.
Mesa Arch spans about 25 meters and stands at the edge of the plateau, 1862m above the sea level in the Islands in the Sky region of the Canyonlands National Park.
Did I mention that this spot is popular?  You will witness picture like below whenever you come to see this beautiful geological formation, if you're there alone – consider yourself lucky.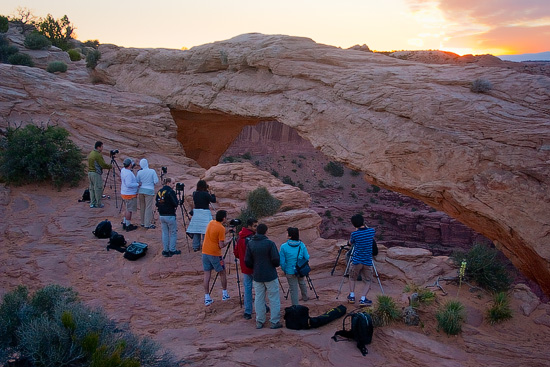 Arch location is well marked on park maps and easy to find. A walking trail to the arch is short and easy – loop is just 800m long and takes about 30 minutes to complete. Elevation change is 30 meters - so small that it's not worth to mention, consider this trail as flat.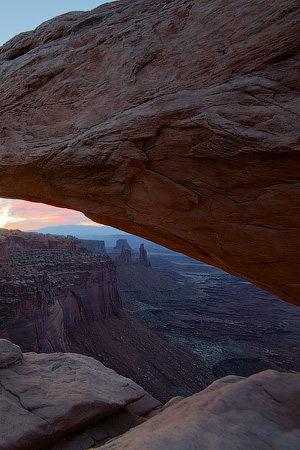 For curious hikers and those who interested in botanical aspects of the place, there is a brochure available at the trailhead. It describes plant life found along the walking trail.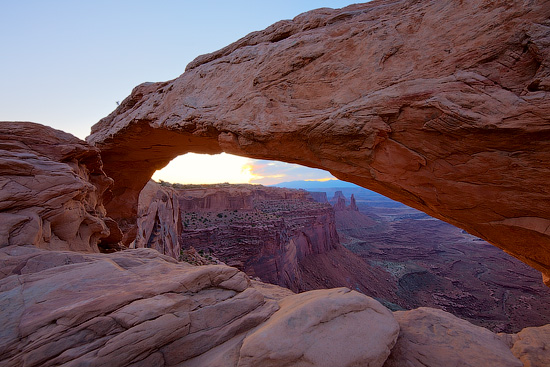 Sunrise is definitely the best time to see the Arch – for a relatively short moment, the bottom of the Mesa Arch lits up and glows catching light reflected from the cliff.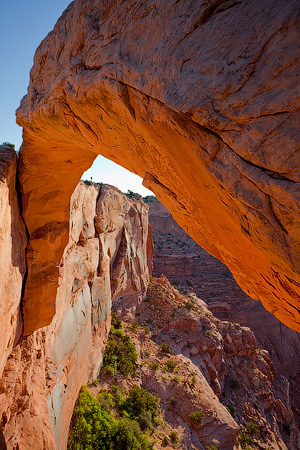 Apart from the arch itself, this place opens spectacular views over Colorado River gorge and some very prominent rocks in the valley 600 meters below.
Officially they called Washer Woman Arch, Monster Tower and Airport Tower, but I call them Ghosts of Canyonlands.
Somewhere further away, La Sal Mountains fill the horizon and complete this majestic scenery.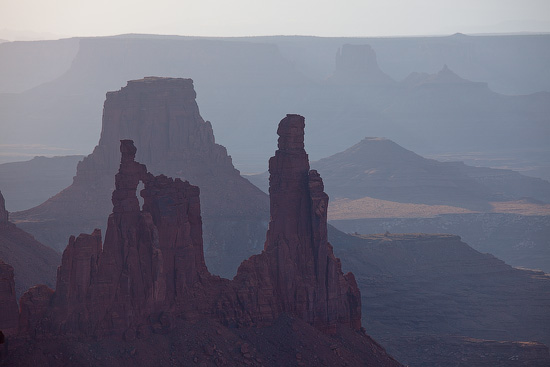 I am usually not very emotional in my blog posts and guides, but this time I will say that I was practically stunned by the beauty of this place and I didn't want to leave. One day I will come back here again.