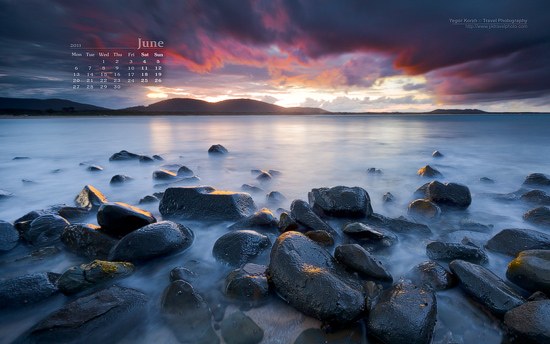 This image of Killick Beach, located near Crescent Head, NSW, Australia is my second most popular photograph for May 2011. I wasn't planning to shoot this particular view – I was going there for another spot, located couple hundred meters away. I had a specific image in mind, which, thanks to a heavy rain, I even hadn't attempted to capture. Anyway, I'm happy with the result and I guess this will be another proof that the best results often come from unexpected places and are almost always unplanned.
This time I decided not to limit myself to 12 calendars and updated all previously posted wallpapers – 21 desktop wallpapers with fresh calendar are available for download here:Â Free Desktop Wallpaper Calendars.
Are you Android device user? Over 100 images from my portfolio are available as high resolution wallpapers for Android devices, try it!