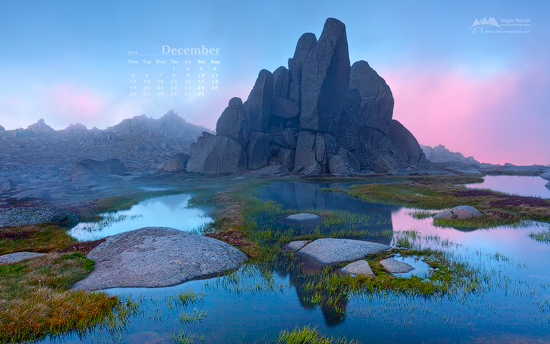 As I can't think of anything except my backpacking trip to Tasmania which starts later this week, the fresh desktop calendar features an image from my last year's hike in Australian Snowy Mountains. The Rams Head plateau is located a few kilometres south of Australian tallest mountain (Mount Kosciuszko, 2228m) and offers stunning scenery over grassy flats mixed with impressive granite boulders and rocky outcrops. Despite its close location to an extremely popular walking track, there are not many people who decide to take a side walk and visit this remarkable place, making it even more attractive.
As before, this and all previously posted wallpapers with fresh calendar are available for download here: Free Desktop Wallpaper Calendars.
On top of these free wallpapers, I'm offering over 100 images from my portfolio as high-resolution wallpapers for Android devices. App also allows access to Flickr, Facebook and Picasa, so you can use your own images as well as images from my portfolio as wallpapers for your Android.