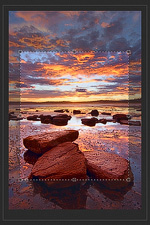 MOBILE WALLPAPER: From now on, you can use any image published on this website as wallpaper on your personal mobile device – mobile phone, MP3 player, PDA or any other mobile entertainment unit.
CUSTOM: Wallpapers are not pre-made. For your convenience I've integrated a cropping tool. Using that tool you can select part of the image that you like and download it. Selected area will be resized to fit the size of the wallpaper.
SIZE: There are only certain wallpaper sizes available at the moment. I tried to identify and add some popular hi-res (in mobile world) wallpaper sizes. If you believe that I've missed a very important size – let me know.
FREE: Yes, it is completely free for you personal non-commercial use, read the license for more details.
HOW TO GET IT: Look for "Download as Wallpaper" link in the top sub-menu when viewing the photo. Click on that link and follow six extremely simple steps.