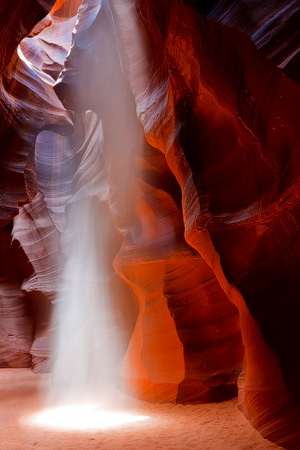 Do you speak Navajo? If not, then you are like me and probably didn't know that "Tse' bighanilini" means "the place where the water runs through the rock" and is a name of one of the most amazing places in the world. Unlike many others, it is a simple and meaningful name, however, it doesn't explain why this canyon is so popular and attracts hundreds of tourists each day.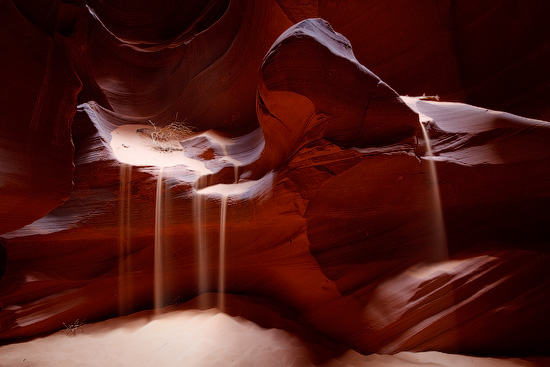 Let's put it straight – Canyon is well-known for its light shafts, which usually happen on a clear sunny day between 11am and 1pm when the sun is directly overhead, mostly in summer.
Upper Antelope Canyon is one of the two main sections of the Antelope Canyon near Page, a small town near Utah-Arizona border. Canyon entrance is accessible by 3 mile 4WD sandy road, but you don't need to worry about it as every tour to the canyon includes transfer from Page to the entrance and back.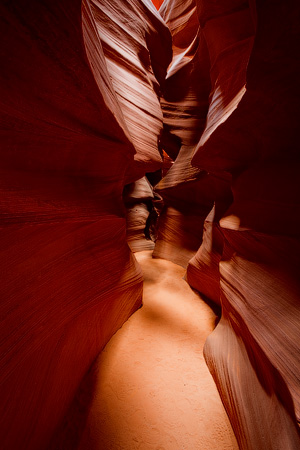 To visit this true wonder of the nature, you have to be a part of the group and accompanied by an authorised guide. Regular tours are 1.5 hours long, but if you need more time, you can get one of the photographer's tours which lasts twice as long. Tours are not cheap, but believe me – it worth it.
Many places inside the canyon have their own names like "The Heart of the Canyon" below.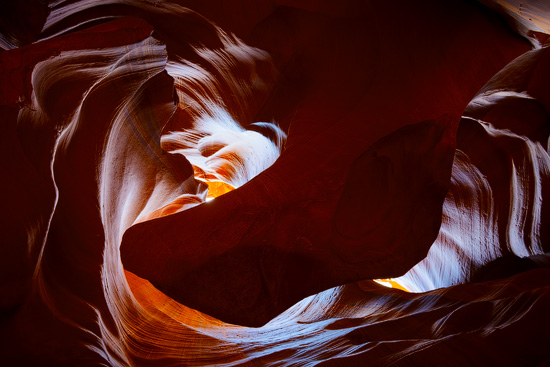 Canyon is carved in Navajo sandstone by wind and regular flash floods which occur even in our days. It is much deeper that wide and there are only a few places where you can't touch both walls at the same time.
All 180 meters of the Upper Antelope Canyon are at the ground level and walking through the canyon does not involve any hiking: no stairs, no slippery rocks, nothing like that at all - everything is made not to distract you from all these shapes, sand-falls, light shafts and colours.