The Broken Hill Sculpture Park  is one of the main tourist attractions and icons of the Australian outback. Sculptures are located on the top of the Sundown Hill 10 kilometers North from the town centre on the territory of the Living Desert Sanctuary.
There are two park entrances:
– Road leading straight to the Sculpture Park -Â this road is closed by two gates, but you can get a key for a small refundable deposit at the Broken Hill Visitor Centre. Walking is not permitted on this road – cars only.
– the main entrance, opened during the day only. This road takes you to the sanctuary picnic area, walking track and amenities. You can walk to the Sculpture Park 1.5 kilometers from there.
There is a nominal park entry fee which can be paid at the main entrance or Visitor Centre.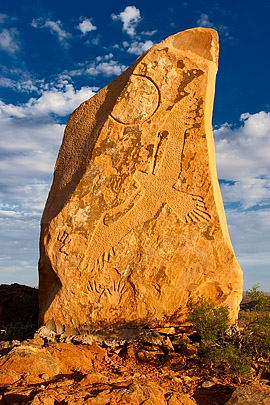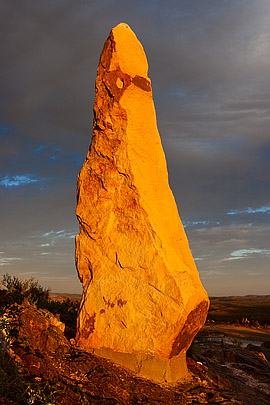 Park construction began on the 1st of April 1993 and was finished late May same year. Twelve sculptures were created from 53 tonnes of sandstone by different artists from around the world:
– Facing the Day and Night, Eduardo Nasta Luna from Mexico (above left)
– Thomasina (Ibis), Thomas Munkanome, Bathurst Island (above right)
– Horse, Jumber Jikiya, Georgia (left)
– Angels of the Sun and Moon, Valerian Jikiya, Georgia (middle)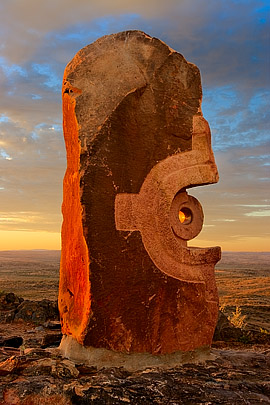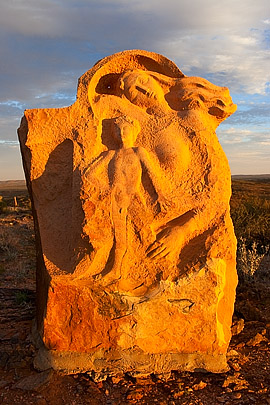 – Bajo El Sol Jaguar (Under Jaguar Sun), Antonio Nava Tirado, Mexico (left)
– Motherhood, Badri Salushia, Georgia (right)
and others:
– Habitat, Dr Ahmad Al Ahmad, Siriya
– Moon Goddess, Conrad Clark, Australia
– The Bride, Dr Mahomad Mira, Siriya
– Tiwi Totems, Gordon Pupangamirri, Bathurst Island
– Nhatji (Rainbow Serpent), Badger Bates, Australia
– A Present for Fred Hollows in the Afterlife, Laurence Beck, Australia
As for many other places, the best times to visit this park are sunset and sunrise; and as the main entrance is closed by then, you will need to use a car-only park entrance , so don't forget the key.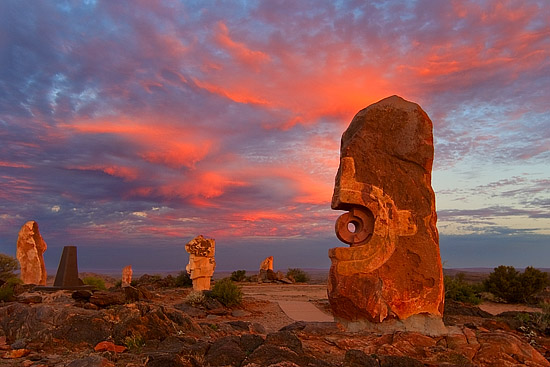 Additional:
– Images on flickr
– Broken Hill Visitor Centre