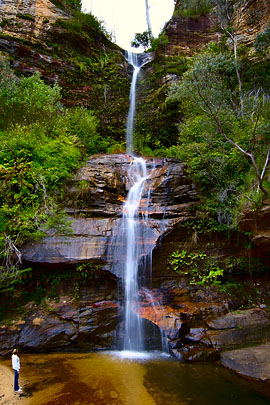 Very well known to everybody, Katoomba is one of the major tourist attractions in the Blue Mountains and Sydney area. Mountains, cliffs, lookouts, waterfalls, skyways and tourist trails – all of these are located just next to each other and suitable for all kinds of visitors. As all of this is well described in travel guides and photographed millions of times, everybody would think that nothing can surprise in that area.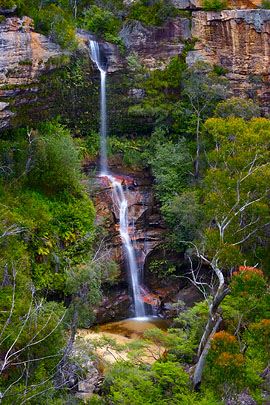 But, among this heap of well known tourist attractions, in the North Katoomba, almost forgotten by tourist guides and maps, you can find a 20-meter Minnehaha Falls, also known as a Minni-Ha-Ha Falls.
1.3-kilometres trail starts in the small Minnehaha Reserve which can be found by following these directions:
– from the Great Western Highway turn onto Civic Plaza, then
– turn left to the Station Street and
– follow Victoria Street until South Street, where you need to turn right
– finally, turn left onto Minni Ha Ha Road and drive until you reach a small car park.
Trail to waterfalls (yes there are two of them) follows a Yosemite Creek and after 900 meters brings you to a lookout with great views over canyon from a rocky cliff. You will not be able to see the main waterfall from there, but if it is full of water you will definitely hear it. However, from there you can have a look at another smaller waterfall – you will need to get through the dense bush for it – it was quite hard at the time when we were there, that's why I don't have any photos of that place.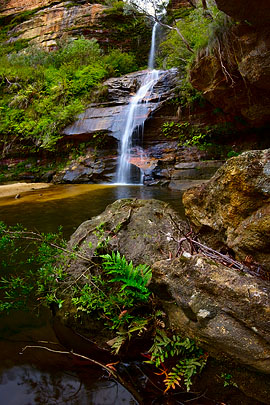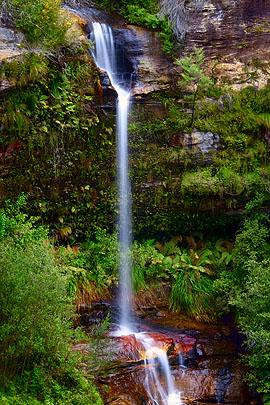 Last 300 meters is a well built and maintained track with steel ladders and handrails and couple spots where you can have a bit of rest and enjoy beautiful views. This track leads to the base of the Minnehaha Falls, where you can swim in the nice small pool, right under the falls.
BTW, Yosemite Creek is quite remarkable place as well with many small waterfalls and cascades like this: